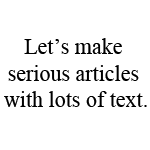 I'm the owner and quality control inspector of this wiki. Forgotten guide headers and missing categories are my summoning call - if you've made a questionable edit, I've likely left an official sounding message on your talk page. Don't worry about it, these things happen, and I'm here to help
you
make this a better place. My goal is to provide unbiased information about tulpas and the tulpa community, to any extent possible. I hope to turn this website into a working repository for information about the subject.
If you have any questions about the wiki, thoughts and opinions on pages, suggested sources for un-sourced original research, or other concerns about the quality and neutrality of the (non-guide) content available on the wiki, leave a message on my talk page! I'm the go-to guy for making this place a better resource for everyone.
My favourite pages
Edit
Personal writing
Edit
Good articles
Edit
Important rules
Edit
Community content is available under
CC-BY-SA
unless otherwise noted.